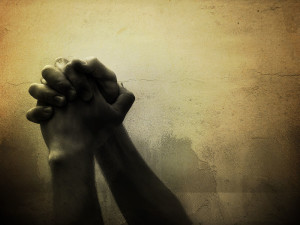 Figured that would grab you.
Don't get the wrong idea, I really do believe in the practice of prayer.  Yet, I know there are things you will never pray away.
I'm a bit cautious when we over spiritualize addiction, attraction and mental/emotional health, just to name a few. To approach these as if prayer were the only "tool" in the bag is naive.
I've heard it said, "If you pray hard enough, God will take it away." Here's how I reply, "He might, but more often than not He won't."  Did you know there's a bigger God story in the making when he doesn't remove it? This is when He invites us to lean into His sufficient and enduring grace.
When do you "know" that you can't pray it away? I think there's a God moment when you hear from Jesus. It's not necessarily audible, but you know the words are from Him. Listen. Then, there's this inexplainable peace. You're okay because Jesus makes it okay as you take the journey with Him. The battle is still real, but He's in the middle of the struggle with you.  It is kinda funny, it stinks at the same time it's sorta sweet.
When you can't simply pray it away, it's time to discover how to live in the grace Jesus gives. Learn how to know, appreciate and wander in His good favor and kindness.
The first step is surrender to Jesus and the admission of one's own frailty. I don't have to be strong for Jesus, it's in my weakness that His strength is demonstrated. Take a deep breathe, Jesus is strong for you.
The next step involves trust. I must trust Jesus to do what I don't deserve and more importantly what I can't do for myself. I can't begin to trust Jesus until I've completely surrendered. I can't hold on to it or take it back, but let it go and hold onto Jesus instead.
Finally, live in a continual dependence knowing Jesus will work something beautiful out of this weakness. He's writing a story; Jesus is proving Himself to you.
Don't be discouraged if your struggle can't be prayed away. Live with the confidence Jesus is stronger than your weakness. He's creating this space of grace for your thriving. And, His grace never let's go.