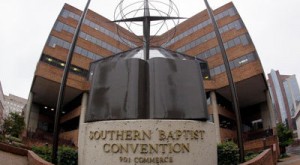 All indicators reveal the Southern Baptist Convention is shrinking and has been for some time now. Membership is down as are baptisms. My hope is that we don't become a defensive and exclusive people. Declining organizations rarely admit their faults, but tend to blame outward factors or conditions for which they have little control. I'm a Southern Baptist not because of politics, but because of the Cooperative Program. There's a lot at stake here – the greatest missionary sending organization in modern times.
A task force was formed recently to review baptism decline's cause and provide course correction recommendations. The report is pretty forward, but fails to note some fundamental elements. I'd like to offer some additional insight to the findings and recommendations.
I believe we must be careful with pinning the pastor with the "whole" responsibility. The report would suggest the pastor is to blame for the decline. At some point you have to quit blaming a pastor and own up to broader audience responsibility. Here's a bold claim: I believe the majority of pastors are not the major influencers in their respective congregations. The typical pastor's tenure is between three and four years. They've yet to earn the right to influence significant organizational change or shifts. Influence happens in and because of relationship. Somehow we need to capture the real influencer's heart.
I believe we need a new working definition of evangelism. We don't need confrontational clichés and words less aptly spoken. We don't need converts; we need disciples. We don't need catchy acronyms and outlines to share a concept; we need authentic Christ followers living transparently this thing called faith among others. Our commission is to make disciples as we're going and living life. Here's another bold statement: For several decades we excelled at making converts, but not disciples. We have churches full of converts, but fewer disciples. We're reaping the harvest of convert theology. If we're going to change the tide, we must make disciples.
I believe we need a correction in our success measurement model. What is success in the local church? If our task is to achieve a numerical or objective goal, it's easy to become enamored with the goal while forgetting the reason behind the goal. Why do we do what we do? Let's focus on fresh objective and subjective evaluations.
I believe we need to be cautious about encouraging churches to be program oriented. It's an old and irrelevant model. The program for program sake doesn't work, but relationships do. People have wised up to Baptist bait and switch techniques in programming. They don't need another activity, but something meaningful. Let's work on greater authenticity and meaningfulness.
We're a denomination of predominantly sick and unhealthy churches. There, I said it. If you question my statement, read Thom Rainer's post on the Autopsy of a Deceased Church. Many of our churches are declining and struggling without any clear or noble purpose.  Churches have lifespans – they're born and they'll die. Some churches need to die. Okay, maybe a lot of them do. Others need to discover health. Some need to merge. New churches need to be planted. Healthy churches must multiply. We must invest in a strategic church health initiative as Southern Baptists.
And let's not forget this is a spiritual issue – changed hearts and practices.