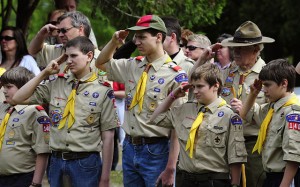 The Southern Baptist Convention will gather next week in Houston, Texas. A non-binding resolution urging convention churches to disaffiliate with Boy Scouts of America is very likely. Richard Land, a long-time Southern Baptist voice with the Ethics and Religious Liberty Commission said, "There's a 100% chance that there will be a resolution about disaffiliation at the convention and a 100% chance that 99% of people will vote for it." As a Southern Baptist pastor, I'm not ready to give up so quickly on the Boy Scouts.
Why is there so much chatter about Scouting? The reason is the newly adopted membership standard. Effective January 2014, no youth can be excluded from Scouting based solely on one's perceived orientation or preference. Here's the official statement:
Youth membership in the Boy Scouts of America is open to all youth who meet the specific membership requirements to join the Cub Scout, Boy Scout, Varsity Scout, Sea Scout, and Venturing programs. Membership in any program of the Boy Scouts of America requires the youth member to (a) subscribe to and abide by the values expressed in the Scout Oath and Scout Law, (b) subscribe to and abide by the precepts of the Declaration of Religious Principle (duty to God), and (c) demonstrate behavior that exemplifies the highest level of good conduct and respect for others and is consistent at all times with the values expressed in the Scout Oath and Scout Law. No youth may be denied membership in the Boy Scouts of America on the basis of sexual orientation or preference alone.
Let me share why I'm not abandoning ship just yet:
The Boy Scouts of America do not teach sexuality in its curriculum.
As a youth program, the Boy Scouts of America maintain any sexual conduct is contrary to its standards.
No member can use Scouting to promote or advance an agenda concerning orientation.
While Boy Scouts make no exclusion to participation based upon one's perceived orientation or preference, it does not in any way promote or affirm behavior under the new membership guideline. This is a "don't ask, don't tell" policy without the ability to promote even if you decide to tell. Remember these are youth who are still developing and learning and frankly don't have an educated clue about sexuality – though they might think they do.
The Boy Scouts of America chose to maintain their current exclusionary leadership position:
The applicant must possess the moral, educational, and emotional qualities that the Boy Scouts of America deems necessary to afford positive leadership to youth. The applicant must also be the correct age, subscribe to the precepts of the Declaration of Religious Principle (duty to God), and abide by the Scout Oath and the Scout Law.
While the BSA does not proactively inquire about sexual orientation of employees, volunteers, or members, we do not grant membership to individuals who are open or avowed homosexuals or who engage in behavior that would become a distraction to the mission of the BSA.
Had the Boy Scouts altered their position to make space for open, avowed, and practicing homosexual leaders, my verse on this story would be very different. Not only would I have distanced myself from the BSA, but would have urged others to do likewise. There's a huge difference in the role and expectation of a participant versus a leader. The act of admitting a practicing homosexual leader must be interpreted as an affirming action. Believe it or not, an organization can be welcoming and not affirming. It's the difference between welcoming the individual versus affirming the behavior. I believe in welcoming anyone; I don't agree with affirming behavior that is contrary to a Biblical sexual ethic. At least in this go around, I believe Baptist Churches should continue chartering Scouts. A continued relationship with the BSA doesn't jeopardize or even marginalize your truth position. In fact, it opens the door for incredible influence.
To my fellow Southern Baptists, make no mistake in interpreting my Biblical worldview and sexual ethic. Read my previous posts and check my record. I believe my position is consistent with a Biblical framework and in no way compromises a Biblical sexual ethic. Sexuality is not taught and neither is sexual behavior acceptable in Scouting. The promotion of homosexual behavior is not permitted in Scouting. The BSA chose not to solely exclude a youth from scouting because he might be struggling with same-sex attraction and identity. While this is a "welcoming" action, it does not affirm behavior. This is an extremely important distinction.
Unfortunately for Baptists this is probably an "easy" ditch or scapegoat. Scouting in many Baptist churches is perceived more as a time block in the schedule on the back of the bulletin. There's actually little relational connect between Scouting and the average church member in the typical church. I'm thankful that's not the case where I serve. This fast tracked resolution process sounds too much like June 18, 1997, when the SBC decided to boycott Disney. For eight years Baptists went incognito to visited Disney before Baptists decided to end the boycott. Think, pray, and discern before you jump on the bandwagon – please.