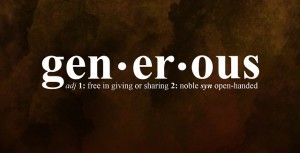 Here's my homework for day three:
The point is this: whoever sows sparingly will also reap sparingly, and whoever sows bountifully will also reap bountifully. 7 Each one must give as he has decided in his heart, not reluctantly or under compulsion, for God loves a cheerful giver. 8 And God is able to make all grace abound to you, so that having all sufficiency in all things at all times, you may abound in every good work. 9 As it is written, "He has distributed freely, he has given to the poor; his righteousness endures forever." 10 He who supplies seed to the sower and bread for food will supply and multiply your seed for sowing and increase the harvest of your righteousness. 11 You will be enriched in every way to be generous in every way, which through us will produce thanksgiving to God. 12 For the ministry of this service is not only supplying the needs of the saints but is also overflowing in many thanksgivings to God. 13 By their approval of this service, they will glorify God because of your submission that comes from your confession of the gospel of Christ, and the generosity of your contribution for them and for all others, 14 while they long for you and pray for you, because of the surpassing grace of God upon you. 15 Thanks be to God for his inexpressible gift! 2 Corinthians 9:6-15
1) What do I find out about God and my relationship with Him?
I think God appreciates the display of generosity, maybe because it reflects His nature to some degree. He is a generous God in all ways. He wants for us to reflect His character and nature as an image bearer. Without sounding too law oriented, I believe there's an expectation of giving – the practice of generosity by each of us. In a way, it expresses gratefulness.
Through the intentionality of generosity, there is a blessing. Our ambition isn't that we'd get a lot materially out of it or even get more back than we gave, but there's a blessing in the knowing and the practice of generosity. There's a beauty in living in His supply.
Through generosity, you're giving not only God an opportunity to bless, but you're creating an opportunity to praise God for ourselves and for others.
2) What do I find out about others and my relationship with them?
The recipient of generosity is a draw to express thankfulness. In essence, when I'm generous to those around me, I create for them an opportunity to express gratitude. Your generosity allows others to glorify God. Not only is the practice an opportunity to praise God, but those in receipt of your generosity are also given the opportunity to glorify God.
3) How am I to be and do?
Decide on generosity. Give cheerfully, not reluctantly or begrudgingly or with too many strings. Look for moments to practice charity with intentionality. Know its result creates a moment for God to bless and for others to express gratefulness and gratitude.