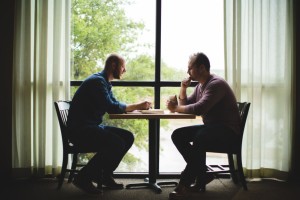 I was finishing up church supper the other week. Just moments earlier the chairs had been full. Now I found just one other person in addition to myself seated at this large eight top table.
The other person moved to take the chair next to me. A conversation began; I did most of the listening. His words started with something like, "I've seen God twice in my life." He had my attention.
For the next fifteen to twenty minutes, I listened as this man revealed two very personal and intimate encounters with God. I loitered in a moment of vulnerability, transparency, and risk. There was a brief glimpse into his private world. I witnessed depth as I sat listening.
I've thought a lot about the conversation that evening. I'd learned something; I now understood more. There's power in a story as we discover and learn from one another's journey. You have a story; I have a story. How do we get to know one another? We listen and engage each other's story.
Possibly there'd be less judgmentalism, prejudice, and fear if we knew the stories that shaped and in some cases defined others. Just maybe we'd extend a bit more grace, compassion, and understanding in the observed narrative of the heart. Let's be more considerate and intentional in both storytelling and listening.
How will you engage story?