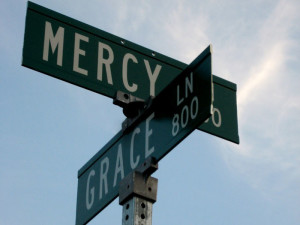 Mercy came alive this week. Though I knew it intellectually and experientially, mercy's certainty grabbed me.
It was something about Ephesians 2:4-6.
4 But God, being rich in mercy, because of the great love with which he loved us, 5 even when we were dead in our trespasses, made us alive together with Christ—by grace you have been saved— 6 and raised us up with him and seated us with him in the heavenly places in Christ Jesus,… (ESV)
Why this week? Why mercy?
Maybe it's because mercy originates in God's incredible love. It is out of His love for me that mercy is extended.
Maybe it's because without God's love there would be no mercy. Jesus, thank you for loving me.
Maybe it's because God loved me even in my trespasses. My sin past and present does not define me, but Jesus does.
Maybe it's because only when mercy is extended is grace given.
There's a relationship between these three: love, mercy and grace. Because of God's great love for us, He extends mercy and compassion. Because of this mercy rooted in love, grace is given.
We need to talk more about mercy. Never downplay or discount God's love because if you do, you're discounting His mercy and grace. Without all three, we would tragically be a people who have no hope.
Earlier this week, I wrote and reflected on these words about mercy:
I'm psyched, about ready to explode from the inside. Mercy has caught me anew this evening. It's what I'm talking about this weekend. God's pity, His compassion all driven by His vulnerable, consuming and great love. He really does love me; How great is the Father's love for me! Because of this great love, He's incredibly merciful towards me. Because of this extended inexhaustible mercy, He liberally gives grace. He does for me more than I deserve, so much more than I could ever repay or do for myself. I can't wait for the weekend. Lord Jesus, thank you, I worship you.
That sums it up for me.