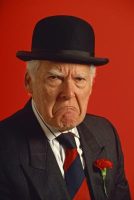 I close out the Modern Family series this weekend with a talk about the care for aging parents. There's only so much you can pack into a 30 minute message. So, I want to share some thoughts here about dealing with difficult aging parents.
Don't look to your parent for approval. We don't seem to outgrow the desire for mom and dad's approval. In a difficult parent scenario, you'll never find what you're craving. Face it now, you'll never get it right, just do you're best. Don't live for your parent's approval, but stand in Christ's approval.
Create time and space boundaries to protect yourself, spouse and children. The care demands can be significant and often become overwhelming with a difficult parent. It will drain you emotionally, physically and spiritually. Practice self-care strategies to refuel. You can't do or be everything for your parent. Schedule your commitments with a begin and end time. You have a responsibility to care for your parent, do not do so at the expense of your spouse or child.
Choose your battles and focus on the major issues. Not every detail needs to be addressed. Choose wisely the issues to tackle. Don't let every scenario become a disagreeable moment with a difficult parent.
Be loving and firm in your decision making. Be persistent in the important stuff.
Honor doesn't mean obey. As a child, we honored parents in obedience. As an adult, we honor them in respect. We respect by caring, making good decisions on their behalf and assisting them to live out their desires. As cognitive ability diminishes, it is inappropriate for you to respond to every request or whim. You can certainly disagree with your parents and still respect them.
Depend on others to assist and care. Let other help you care for your aging parents whether paid or volunteer. If you try to do it all, you'll burn out. If you burn out, you'll live in bitterness toward your parents. Bitterness while they're alive produces regret once they're gone. Don't live there.
Don't fall into the guilt trap. As people age, there's the potential for greater manipulative, demanding and less rational behavior. Don't fall prey to these tactics or the guilt they produce.
Accept the relationship for what its become even if it is disappointing and dysfunctional. Sometimes we lose a parent before death. It's okay to mourn the relationship's death, but learn to accept the new reality of a very different relationship, personality or behaviors.
This is where grace becomes practical. Demonstrate it well through wisdom and forgiveness. I'm not sure we ever fully understand the implications of our actions upon another. Don't try and hold them responsible now. Know that just because you care for a difficult parent today doesn't justify or give you permission to become that difficult parent tomorrow. Learn valuable lessons now about how you can best assist your children's care for you someday.