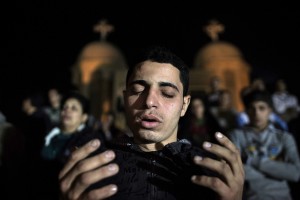 Religious extremism is evil. Look no further than ISIS (Islamic State of Iraq and Syria) or ISIL (Islamic State of Iraq and the Levant).
Last Sunday, 21 Egyptian Christian hostages were executed by militants allied with ISIS. The Coptic Church confirmed the 21 hostages are believed dead. Believers were martyred because they were, "The people of cross, followers of the hostile Egyptian Church."
As a Christ follower (a person of the cross), I'm deeply saddened by these brutal attacks. Savage acts ought not happen nor should they be permitted. Life is precious, sacred and valued.
Pray for the families as they grieve.
Pray for the people of the cross in that region.
Pray for leaders across the globe as they engage this terrorism.
Pray for the deliverance from evil.
Live as people of the cross.