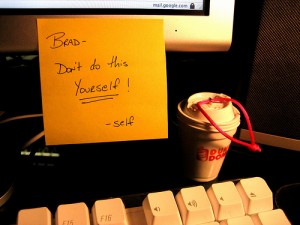 I'm taking one of Moses' lessons to heart. Do you remember when Jethro showed up only to find Moses (his son-in-law) trying to do everything in Exodus 18? He was hearing every case and making every judgment. That strategy not only wore Moses out, but also exhausted the people he was trying to help. Jethro taught Moses the power of shared responsibility. Moses didn't have to do it all, but had permission to share the responsibility with others.
I think that's a lesson we can take to heart.  Are you exhausted? Give yourself permission to share the responsibility with others. I can think of so many applications. Look at your family? Do you handle a disproportionate amount of household duties? What about that volunteer job? Does your "ownership" of the role have to do it all?  What about your job? Did you really need to "handle" every aspect of that collaborate project? Where you can, give yourself permission to delegate, ask for help, take less on or alter frequency.
Take a deep breathe – to change your pace

Put on humility – as it's not all about you

Share the role – give others an opportunity

Gain perspective – see the bigger picture
The practice of shared responsibility takes a dose of humility. It requires letting go and becoming dependent to some degree upon others. The end result is empowerment not only for you, but also for others. The practice of shared responsibility allows you to see the bigger picture since you're not so focused on doing everything in this one area. It's a whole new and refreshing perspective.
Here's my practical example. Last fall, we made an intentional decision to alter my teaching routine. For the first couple of years at my current church, I did nearly all of the weekend teaching. I thought it was important. This year, I'll teach approximately 38 out of the 52 weeks. I'm privileged to serve with an incredible team many of which are gifted communicators. People really enjoy hearing from this team. They have the opportunity to teach and I get to invest more into fewer weeks. The desired outcome would be a more thoughtful, energetic, and meaningful weekend experience for everyone and hopefully no one get's exhausted in the mix. And, do you know what? On some of the "not on" weeks, I get to experience the Cool Spring community from a whole different angle. This other perspective aids in getting the bigger picture.
That's just one example of share responsibility. There are other areas of life that need sharing. What about you? What are you doing all by yourself? Where can you share responsibility? Take a leap and share with others giving them the opportunity to excel, grow and serve. And in reducing the load, you'll gain a whole new perspective that'll help you with the bigger picture.  It's okay, you really don't have to do it all.
The word for today: Share!