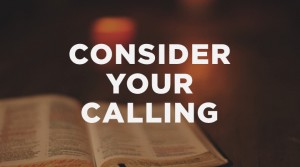 I'm certain that I'm not the only one who struggled in discerning between a noble desire and God's call. While desires will fade with time, a calling never does. A calling is a knowing that is initiated and sustained by God and verified by Scripture. God calls each of us, we just have to distinguish the call.
I struggled with my call all the way back in College. Desire battled, but calling won out.  Seminary would follow.
After seminary and in my first full-time church position, I once again battled between desire and calling. See, I had an intense desire to be in business. Business was actually my undergraduate degree. Even though I'd been to seminary, I struggled with the noble desire to be in business. I could become a businessman, make a lot of money and give a lot away. That's noble desire, right? Around the time our first child was born, I made a move. Partially burned out with ministry and fueled with a desire for business, I exited my profession with my eyes set on working in a family business. Desire won and calling took a back seat. While I chased business, I was never fully satisfied. Even though we were involved in a local church, the most difficult place for me to sit was in a worship service because I knew my calling and it conflicted with the noble desire for business that I chased. It would take God's breaking to end my desired (business) pursuit. While crushing, it defined and calling would win out.
Several years ago around the time I finished my doctorate, I went though another battle between noble desire and calling. Over the years I'd worked with hundreds of pastors who'd faced difficulty in ministry and even wrote a book about it. Throughout this season an intense noble desire developed to help pastors and congregations toward wholeness. There's a huge need for both preventative and reparative work in this area. I wrestled with the noble desire even to the point of entering into dialogue with denominational organizations that could afford the opportunity. Oddly enough there was an absence of peace in those conversations. During the chase of a noble desire, God seemed to confirm my calling. My calling is to pastor a local church and it still was. Calling won out. I'm pastoring a local church and living out my calling. It's a far better place instead of chasing a noble desire.
It is in the pursuit of the calling that you know real satisfaction. And in the difficult times it's the knowing of the calling that sustains you.
Noble desires aren't bad they're just not necessarily your calling. Learn to distinguish between the two. Could it be that God called you to ministry and you've chased a noble desire instead? Could it be your noble desire is ministry and God didn't actually call you? Is there a conflict between what you're currently doing and what you believe your calling to be? Discover God's calling. Desires will change, but your calling remains. Desires can be noble, but God's calling is where you want to reside. If I had a word of advice for people struggling between a noble desire and calling – always remain true to your calling. It is in your calling that you live out God's purpose and discover His plan for you.
Are you struggling between a noble desire and your calling?