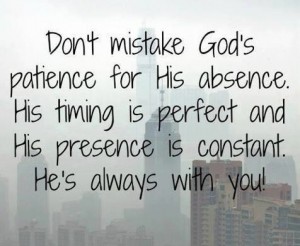 I'm reminded of God's timing recently. Personally, I like things neat and timely in my agenda. No matter the amount of preplanning, calendaring and best efforts, sometimes stuff just doesn't happen according to my schedule. And do you know what? That's really okay. Delays happen and interruptions come and go. I can either walk around upset or I can simply navigate through it making the best of the detour. I've learned that sometimes my delays are simply a part of God's plan and I must learn to trust Him in the delay.
No matter how I'd like to rush a couple of things along, I'm learning to wait (at least sometimes). I gain a glimpse of God at work in the waiting. It's in the waiting that strength, trust, dependence and even faith are grown. Ponder Psalm 27:14, "Wait for the Lord; be strong, and let your heart take courage; wait for the Lord!"
Are any of your projects currently delayed? Have you encountered additional obstacles prolonging the completion of an assignment? Is impatience building this week because there are too many open loose ends? Take a deep breath and read Psalm 27:14 again. Wait on the Lord. Let these waitful moments become a season of strengthening for you.