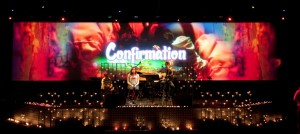 I love technology – okay, maybe it's that I love gadgets to some degree. But, I really do have an appreciation for technology. We live in a culture that quickly adapts to its many uses; some churches on the other hand have been slow to respond to its adaptation. Maybe the hesitancy is due to tradition, liturgy, and unfamiliarity. Others may calculate cost as prohibitive. But, when technology is integrated well into the worship experience, it can be an incredible communication tool. Don't be afraid to experiment with technology especially in the visual context. Technology in worship identifies with the current person. Its use communicates in ways we'd only hoped our flannel graphs and overheads had conveyed.
So why is visual technology important? Here are just a few thoughts:
In this visual age, image communicates more than ever before. You don't have to look far to see the significance of the visual in culture. There's social media like YouTube, Facebook, Twitter, Vine, Snapchat, and many more. Phones come with a camera and most smartphones come with video capability to allow you to capture the moment. The visual is a part of everyday life. You've heard it said a picture is worth a thousand words. People get the picture. The visual speaks loud and we retain the image longer than the words. The visual is a great tool to communicate truth. Pictures share stories; stories share the Gospel.
Enhanced visual media gives the user a unique tool in creating an environment for worship. With a changing and active background, you can create relevant visual expressions that draw people into the moment fostering a unique and personal worshipful experience. No more static backgrounds, blank walls or curtains, but a background that invites participation. The more you can paint the picture, the more captivated a visual person becomes.
Media enhances the speaker's ability to teach, communicate, and relate the story. Visual media assists the speaker by reinforcing the message. With a visual backdrop, we can take you to the shore of Galilee, go on location, and paint a picture. Visual elements can be used to emphasize truths, points, or themes the teacher is trying to relay. It's a huge teaching tool inviting the senses and engaging the participants.
Some might call it cool; I call it strategic and intentional by taking advantage of relevant communication tools available to us. I'm grateful for a church family that sees in the potential of the visual elements in worship. In a few weeks, we'll add a screen measuring almost the length of the platform in the Worship Center. This new visual technology will be used in many ways to both support and enhance the environment and the message. It's huge – no pun intended.
In a matter of weeks, we'll launch our 4th morning service. This new venue (The Exchange) will feature live worship and video teaching. Again, we're using the visual element to convey truth. There's a lot here to talk about over the next weeks. Through visual technology we have the opportunity to relate in a whole new way. To my Cool Spring family, thank you for seeing the vision and for being a part!