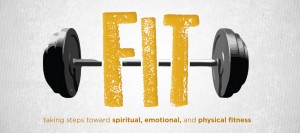 Yesterday was the last installment in the FIT Series and the topic was emotional well-being. I believe God desires emotional wellness for His followers. Paul refers to God as a God of peace – God of well-being. Emotional heath exists regardless of context or circumstance. In other words, our condition doesn't determine or dictate our emotional state.
When you survey some societal emotional indicators – it is rather eye opening.  Depressive disorders are on the rise. Have you experienced episodes of depression? Are you depressed?  Try this simple WebMD Risk of Depression Self-Assessment.  According to Depression Perception:
Approximately 18.8 million American adults, or about 9.5 percent of the U.S. population age 18 and older in a given year, have a depressive disorder.
Depression affects all people regardless of age, geographic location, and demographic or social position.
Depressive disorders are appearing earlier in life with the average age of onset 50 years ago being 29 whereas recent statistics indicate it at just 14.5yrs in today's society.
Nearly twice as many women (12.0 percent) as men (6.6 percent) are affected by a depressive disorder each year. These figures translate to 12.4 million women and 6.4 million men in the U.S.
A recent study sponsored by the World Health Organization and the World Bank found unipolar major depression to be the leading cause of disability in the United States.
The number of suicides in the U.S. is another indicator. According to a recent PBS article, there were more than 38,000 U.S. suicides in 2010 – more than fatal motor accidents. Additionally the article noted, "Most disturbing, that spike among the middle-aged, a 28 percent rise overall, a 40 percent jump among white Americans, and among men in their 50s, suicides increased by more than 48 percent."  That's alarming stuff.
There are people around us emotionally struggling just trying to make it through the day. If you struggle to know emotional well-being, would you take a step to wholeness? Make a phone call or stop by to visit with a friend and share your story of struggle. Sometimes just sharing your story refreshes the soul. James encourages us to confess to one another. Allow the wisdom and perspective of a friend to speak truth into your life. Pray together and seek God's direction. If you don't experience some sort of break through, I'd suggest another step. Locate a professional therapist to assist you through the struggle. A professionally trained therapist may put you in touch with a medical doctor or psychiatrist to prescribe medication. If that's the case, please listen to your therapist and medical professional. There's no shame in taking medication to help balance out chemically. The shame is in denying the need and in one's refusal to cooperate. There's no difference between anti-depressants for someone struggling with a depressive disorder and a diabetic utilizing insulin to control sugar. You have permission to seek medical advice and intervention. God gave chemists, researchers, and medical personnel wisdom in the development and application of these chemicals – take advantage of the provision. Sometimes medication is for a lifetime at other times it is just for a season.
Unfortunately, some remain in a state of depression trying to pray their depressive disorder away. God may heal you miraculously, but He often works through the men and women He's gifted and called to serve. Without professional assistance many will remain captive to the disorder. If that's you, please seek professional counsel. There are better days ahead – I'm confident of the fact.