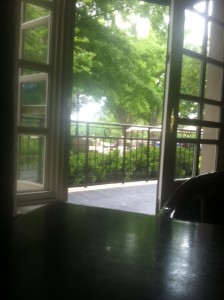 Jo and I got away for the weekend – just the two of us. We headed south to Durham. Last October I purchased tickets to see Celtic Woman. Now, before you pass judgment on my musical style, I like a variety of styles and find the Celtic influence interesting. The concert was fantastic. But, my reason for posting is about what happened when we first arrived in Durham. I'd made meticulous plans reserving a hotel within a couple of block of the event.
When I walked in to register at the Marriott City Center, I discovered we'd been bumped to another hotel. I can't remember that ever happening before. My first "mental" response was – I'm not sure I like this; it's a change of plans. Believe it or not, I don't always like change. I had in mind a set plan for the weekend and now it was changing. I knew what I was getting with the hotel I'd booked and now I was being moved to another now unfamiliar destination some three miles away. Apparently they'd overbooked with a group staying an additional night. The front desk manager gave me a voucher and directions to the Washington Duke Inn and Golf Club. The manager couldn't have been more apologetic and accommodating.
As I reflect upon the shift, I'm reminded about some change lessons. Sometimes the better plan comes along dressed as unfamiliar in the familiar. That was certainly the case here. The new hotel was perfect and actually better suited for our weekend getaway. Instead of having a view of downtown Durham, we had a restful and peaceful view of the green manicured tree lined golf course (see picture above) as we sipped our afternoon lattes before the concert. I've got to add coffee somewhere to the conversation.
Sometimes the best made plans get altered at the last minute due to circumstances beyond one's control. You have a choice in change, you can embrace it or you can be flustered by it. I definitely could have gotten upset at the front desk manager, but really what good would that have done? We got back into the truck and traveled with an open mind three miles down the road with a mindset of anticipation and were definitely pleased by what we discovered as we drove down the tree lined entrance.
An unwillingness to walk into the change results in a missed opportunity. I could have taken my reservation and tried a hotel around the corner to more familiar territory. Had I done that, I would have missed out on the Washington Duke Inn for the weekend. This was the perfect place even though it wasn't in my plan to start out with. The weekend "change" actually made it more memorable in a perfect setting. Hey, I'm glad we got bumped!
What great opportunity does God have for you in the unfamiliar?